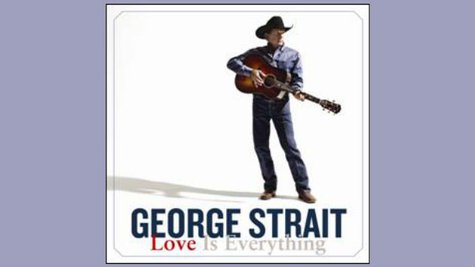 George Strait 's 40th album, Love Is Everything , is in stores and online this week, and George admits the sounds on this new project are much more polished than the tracks on his 1981 debut album, Strait Country . That album launched Strait's career with the hits "Unwound" and "If You're Thinking You Want a Stranger (There's One Coming Home)," and George says, "I think there's some great songs on there, but I think the, well, maybe it's just the technology or maybe it's just the feeling that I've gotten more comfortable in the studio nowadays."
George and his son Bubba had a hand in writing a few songs on Love Is Everything , but George relied on outside songs while making Strait Country . A few of them, including "Blame It on Mexico," were written by George's friend Darrell Statler , who actually accompanied George on his first trip to Nashville in 1978.
George says of those songs from Darrell, "You know, when 1981 came around I was able to sign with MCA and had those songs, I'm figuring I gotta put these on the record."
As for his current album, Love Is Everything features George's latest hit, "Give It All We Got Tonight."
Copyright 2013 ABC News Radio