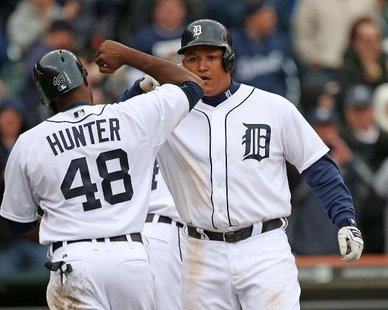 The Tigers last night rallied to take down the Twins 7-to-6 in the opener of a 4-game series at Comerica Park, where the first pitch was delayed for an hour by rain. Detroit trailed 6-3 before scoring 3 runs in the bottom of the seventh and then Prince Fielder drove in the go-ahead run with an infield single in the eighth inning. Joaquin Benoit pitched a flawless eighth for the win and Jose Valverde was perfect in the ninth against the heart of the Minnesota lineup to notch his fifth save and send the Twins to their ninth loss in-a-row. The Tigers grabbed an early 2-to-0 lead in the bottom of the first on another home run off the bat of Miguel Cabrera. That makes it six home runs and 13 RBI's for Cabrera over the last four games.
Anibal Sanchez gets the start tonight for the Tigers, who remain a half game behind the Central Division leading Indians, who won 12-to-3 last night at Boston.
The White Sox had the day off Thursday while the Cubs lost 4-to-2 yesterday afternoon at Pittsburgh.