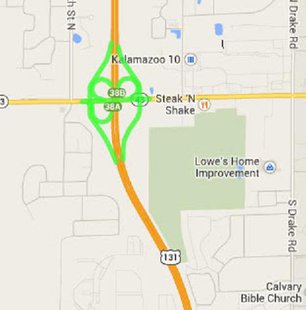 OSHTEMO TOWNSHIP (WKZO) -- Road repair projects are wrapping up for the season.
The latest to remove the orange barriers and resume operation is the bridge over West Main at U.S. 131. MDOT's Nick Schrippa says it will be a smoother drive for motorists and for the first time, pedestrians have their own walkway.
It connects walkways that existed on either side of the bridge.
He says they repaved the bridge surface and the ramps and replaced, parts, resealed gaps and renewed sections so that it not only looks much better but will last much longer.
He says it wraps up most of the construction work they had underway this year. Now they will turn their attention to making surface repairs and sign replacement until the snow begins to fall.