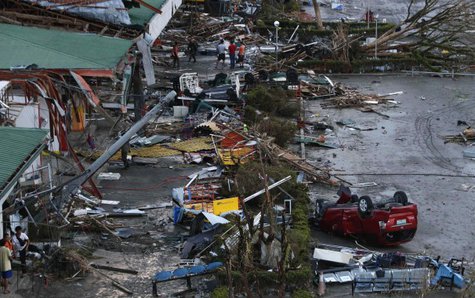 STURGIS, MI (WTVB) - After several anxious days the families of Carter Brown and Elsa Thomasma of Sturgis received word last night that they survived the devastating typhoon that struck the Phillipines. They were in the shoreline community of Tacloban, one of the cities that was hit hardest by Typhoon Haiyan. Survivors who have flown out say the community has been devastated by the storm, with bodies lying in the streets, almost all building damaged if not gone completely and all the utilities destroyed.
Carter told his folks Thursday morning that they planned to ride it out, and then there was nothing but silence, until they got word out last night. He is reportedly in Manila, making his way home. She stayed behind. They are still trying to get a handle on the devastation caused by what may have been the fiercest storm to ever hit land.
Some numbers have been thrown out, but the fact is with roads, communications and electricity all but shut down in a good portion of the Phillipines, which sustained winds of up to 190 MPH for hours on end...they have no idea how many may be dead or the extent of the damage.