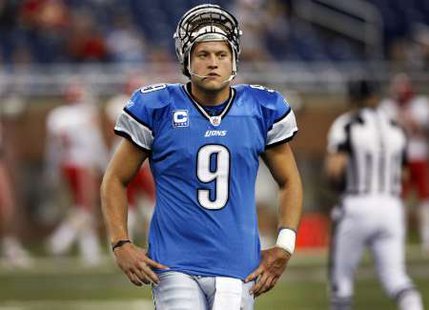 PITTSBURGH, PA (WTVB) - The Detroit Lions scored 27 second quarter points but the Steelers rallied with 17 unanswered points in the second half for a 37-27 comeback victory over Detroit at Heinz Field. The loss slipped the Lions record to 6-4 and into a first place tie in the NFC North with the Chicago Bears, who beat Baltimore in overtime at Soldier Field. The game in Chicago was suspended for nearly two hours late in the first quarter due to the severe storms that hit the Midwest.
The turning point in the defeat for Detroit came early in the fourth quarter when the Lions, with a 27-23 lead, botched a fake field-goal attempt and then Pittsburgh went on a 97-yard scoring drive for the go-ahead touchdown, putting the Steelers up 30-27 with 4:46 remaining. Matthew Stafford tossed for 362 yards, two scores and an interception for Detroit while Calvin Johnson had six catches for 179 yards and two touchdowns for the Lions. In the second half, the Pittsburgh defense limited Stafford's passing game to just 3 of 16 with no fourth quarter completions while Johnson was held without a catch.
Detroit's next game is Sunday at home against Tampa Bay. The showdown in Denver last night did not go the Chiefs' way as Kansas City suffered its first loss of the season to the Broncos. KC came up short 27-17 and fell to 9-and-1, even with the Broncos in the AFC West. The Carolina Panthers host the New England Patriots on "Monday Night Football" to close out Week 11.