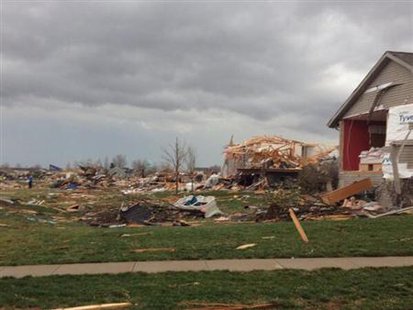 JACKSON (WKZO) -- At the peak, Consumers Energy says over 223-thousand customers lost power statewide as freakish spring-like wind storms swept through West Michigan Sunday.
As of Monday morning there are over 16-thousand without power in Kalamazoo County and over 55-hundred in Van Buren County, and about one in four homeowners in St. Joseph County have no power.
In Calhoun County, about 9-thousand customers are without power this morning, in Branch, 25-hundred, and in Barry county 67-hundred remain in the dark.
There are around 6-thousand without power in Ottawa County and another 6-thousand in Allegan County.
Consumers Spokesman Dennis McKee says they have a full range of damage. The larger areas may be the easier to fix because its just one line or one fuse.
The smaller outages can take longer because it means removing limbs and replacing poles and lines and other equipment.
He says walking to school this morning, watch out for downed power lines.They say the majority of outages may not be repaired until sometime Tuesday, and some may remain without power well into Thursday.
Indiana and Michigan Electric says around 40-thousand customers were blacked out by the high winds and rain, with nearly half of them concentrated in the Benton Harbor area, and another 12-thousand in the Three Rivers area.
It's a day for assessing the damage in many Midwest communities following the intense weather which roared through the area yesterday. It will be a busy one for insurance agents.
The National Weather Service will also be sending survey teams to view the damage today and make an assessment of the type of storm system that hit them, but it's believed to all be straight line winds.
There were no confirmed sightings of tornadoes in Michigan.
The most severe damage in Kalamazoo County appears to have occurred in the townships just north of the metro area.
A tree crushed part of a mobile home In the Woodbrook Mobile Home Park off Douglas in Kalamazoo Township. Another Mobile home was lifted off its foundation and left tipped to the side by an uprooted tree in the Hillcrest Acres Mobile home park.
Limbs fell on trees, on home, on cars and on roads all over the area.
Fortunately there were no reports of injuries.
Mattawan High school is reporting damage to the roof on their gym and cafeteria areas. Two brothers were trapped in a Pick-up truck when a tree fell on it as it traveled along a road in Hamblin Township in Van Buren County. Both survived with only minor scratches.
A barn was destroyed in Barry County, a Body Shop in Battle Creek lost part of its roof and so did the Calhoun County Sheriff's Dept. Office in Marshall. They will be answering the phones, but if you need to look up records, register or obtain gun permits, you will have to use the Sheriff's office in Battle Creek, until they can repair what they are calling severe damage.
The same storm system that rocked west Michigan yesterday, created much more havoc to the south.
At least six people are reported dead and dozens more injured after a massive tornado in Washington, Illinois.