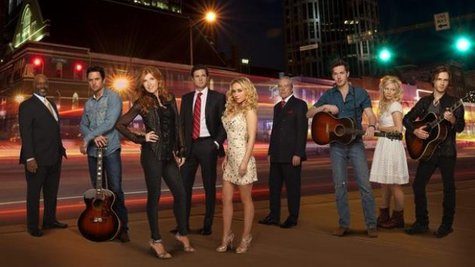 Some life-changing lies were spoken on ABC's Nashville Wednesday night as Mayor Teddy Conrad 's new wife, Peggy Kenter, faked a miscarriage using a tub of pork blood. In truth, she'd already lost the baby by the time they hit the altar in last week's episode, but she let him believe she was still carrying his baby when they said "I do." Teddy vowed to stay with her even though there was no baby on the way saying, "I know that's what brought us back together, but you're my wife now."
After last week's shocking girl-on-girl kiss between country star Juliette Barnes and her new boyfriend Charles Wentworth 's wife, Olivia , Juliette discovered Charlie and Olivia were into threesomes. Juliette called them both "a bunch of sick, narcissistic perverts," and Olivia called Juliette "the mobile-home queen." Despite that blow-up, Charles was at Juliette's door at the end of the episode telling her, "I think I'm falling in love with you."
While she was avoiding Charles' calls earlier in the episode, Juliette kept a writing appointment with Avery Barkley, where they wrote the song, "Dreams." Juliette also realized she may be developing feelings for Avery as he talked on the phone with his on-again, off-again love interest, Scarlett O'Connor , who was out on the road opening for megastar Luke Wheeler .
After crashing and burning in her first attempt to sing in a stadium, Scarlett got a big boost when her mentor Rayna Jaymes came to introduce her to the hostile crowd. Scarlett then went on to deliver a rousing take of her new song, "Crazy Tonight."
The romance continued between Rayna and Luke, who teamed up on a duet called "Ball and Chain" written on the road by Scarlett and her ex-boyfriend, Gunnar . The song's allusion to roller-coaster ride of a relationship speaks to Rayna and Luke's emerging relationship. Actress Connie Britton plays Rayna, and she says that correlation between the songs and the storyline on the show mirrors how great songs are written in real life
"Songs that we hear on the radio, and certainly country music songs, come out of personal experience," Connie tells ABC news Radio, "And some of the best ones, the ones that have the most amazing and moving lyrics are from very personal experience. And so, that, to me is really important as we develop these characters, because that's how it really happens."
ABC's Nashville returns with an all-new episode December 4.
Copyright 2013 ABC News Radio