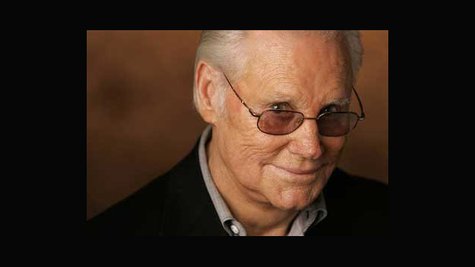 The stars were out in full force for Friday night's George Jones tribute concert at Nashville's Bridgestone Arena. The concert, called Playin' Possum: The Final No Show, featured performances from more than 100 artists including Alan Jackson on Jones' signature song "He Stopped Loving Her Today." George Strait delivered his take on "The Grand Tour" and welcomed Martina McBride for one of Jones' duets with Tammy Wynette , "Golden Ring."
Garth Brooks and Trisha Yearwood were on hand to sing "Take Me," and Miranda Lambert and Blake Shelton teamed up for a performance of "These Days (I Barely Get By)." Eric Church sang a solo, acoustic version of Jones' hit "Choices," and Brad Paisley got the crowd going with "The One I Loved Back Then (The Corvette Song)." Dierks Bentley offered a tender take on "I Always Get Lucky with You," and Vince Gill sang the Jones/ James Taylor -penned hit, "Bartenders Blues."
Big & Rich kicked the evening off riding onstage on lawn mowers as a nod to the time George Jones rode his mower to the bar when then-wife Tammy Wynette took his keys away to keep him from drinking. An empty rocking chair was onstage the entire show to signify Jones' 1992 hit, "I Don't Need Your Rockin' Chair."
Emmylou Harris , Patty Loveless , Josh Turner , Thompson Square , Jamey Johnson , Rodney Atkins , Lorrie Morgan and even Megadeth were among the other acts on the bill for Friday night's show. Reba was slated to perform but had to bow out at the last minute due to vocal issues.
The concert was planned as the finale of George Jones' farewell tour. When he passed away in April, the event was revamped as an all-star tribute to Jones.
Copyright 2013 ABC News Radio