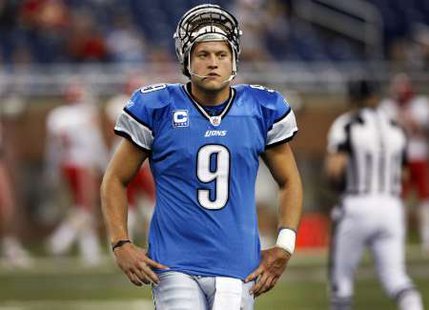 DETROIT, MI (WTVB) - The Detroit Lions let the Bucs steal one away yesterday with Detroit's five turnovers and a blocked punt paving the way for a 24-21 Tampa Bay victory at Ford Field. The defeat dropped Detroit's record to 6-and-5 as they blew a golden chance to take over sole possession of first place in the NFC North after their second straight setback. But the Lions still remain tied atop the division with the Chicago Bears, who were blasted 42-21 Sunday at St. Louis. Detroit looks to bounce back Thursday in their annual Thanksgiving Day game when they host the Green Bay Packers, who are a half game out of the North lead after they played to a 26-26 overtime tie with the Minnesota Vikings at Lambeau Field.
Lion's quarterback Matthew Stafford was intercepted four times yesterday, none more costly than in the final minute at Tampa's three-yard line where Calvin Johnson briefly had the ball but it was jarred loose and picked out of the air by the Buccaneers, who then ran out the clock. Tampa Bay has won three straight after an 0-and-8 start. It's the first time this season Detroit has lost two in-a-row.
It was a classic last night in New England where the Patriots rallied from a 24-0 halftime deficit and went on to beat the Denver Broncos 34-31 in overtime. Week 12 wraps up tonight in Washington as the Redskins take on the San Francisco 49'ers.