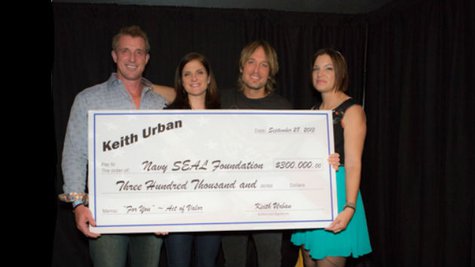 Keith Urban presented a check for $300,000 to the Navy SEAL Foundation, or NSF, Saturday night in San Diego. The money represents the artist and songwriter royalties Keith earned from his country hit, "For You," which he wrote and recorded for the Navy SEAL-themed movie Act of Valor . The NSF will use the money to help SEAL families ease financial burdens and take advantage of support networks.
Keith says, "I have a deep appreciation for the special bond that all of these families feel towards each other and for the commitment that they have made to all of us. The NSF reminds us to acknowledge the importance and sacrifice that is made each and every day by those serving 'down range' as well as their loving families."
Keith continues his Light the Fuse tour Friday night in Tampa, FL.
Copyright 2013 ABC News Radio