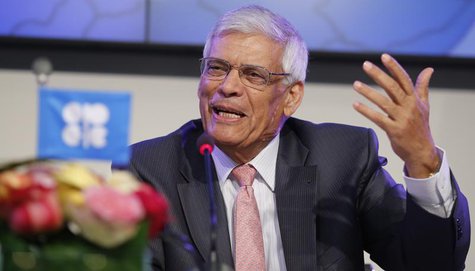 LONDON (Reuters) - OPEC's Secretary General said he was comfortable with the market outlook for 2014 and a forecast drop in demand for OPEC oil was not large, indicating the group may not make big changes to output policy at a December meeting.
OPEC expects demand for OPEC crude to fall to 29.61 million barrels per day (bpd) in 2014, down 320,000 bpd from 2013, due to rising supply outside the producer group.
"It is not a huge drop in the call on OPEC," Abdullah al-Badri told Reuters in an interview on Tuesday.
Referring to the market outlook he said: "Other than Libyan outages I am very comfortable. I hope that Libya will solve the problem before 2014, but I am comfortable now and comfortable in 2014 too, yes."
The Organization of the Petroleum Exporting Countries meets on December 4 to review output policy for early 2014. Badri himself would not be drawn on what OPEC ministers would decide.
(Reporting by Alex Lawler, editing by William Hardy)