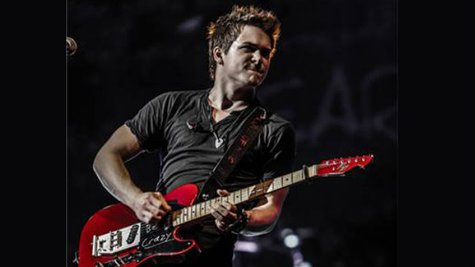 Hunter Hayes launches his CMT on Tour: Let's Be Crazy trek Thursday night in Knoxville, TN with a stage set straight out of his daydreams. Hunter grew up drawing elaborate stage designs in notebooks, and he incorporated some of those ideas into his new show.
Hunter recently stumbled upon those notebooks cleaning out some drawers at his parents' house. He says, "I found a bunch of that actually, and I took pictures of it."
Even though Hunter is delighted to bring as much gear as he wants along for his new show, he's most excited to get out and perform a full concert for his fans.
"I'm really excited to finally bring it to the fans and for them to finally see what we've been working on for them," Hunter says. "And I don't know, just to feel the energy that I know is always there at our shows with them -- it has nothing to do with anything on stage. It's just the fans that walk in and bring it."
So, will Hunter's headlining shows live up to the tour name, Let's Be Crazy?
He says with a laugh, "I mean, it's going to be crazy, and I'm just itching to get it started. I'm tired of waiting."
For a complete list of Hunter's tour dates, go to HunterHayes.com .
Copyright 2013 ABC News Radio