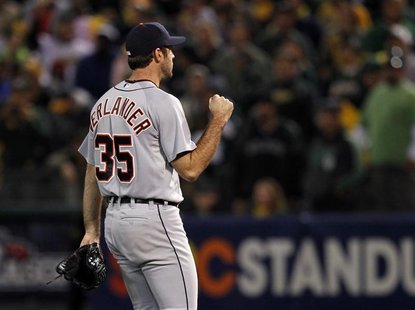 OAKLAND, CA (WTVB) - The Tigers take on the A's tonight at Oakland in the deciding fifth game of their American League Division Series with the winner advancing to battle the Boston Red Sox in the ALCS. Detroit kept its season alive with a heart pounding Game 4 victory Tuesday night over the A's at Comerica Park. Tonight, the Tigers turn to their former Cy Young Award winner Justin Verlander, who threw a complete game shutout at Oakland in this same decisive game last year. He'll pitch against Sonny Gray, the rookie who will try to duplicate his Game 2 effort when he tossed 8-innings of 4-hit shutout ball last Saturday as part of the A's 1-0 victory. That game also showcased Verlander with 11 strikeouts as he blanked Oakland over seven innings with 4 hits allowed. He's riding a 22-inning postseason scoreless streak against the A's.
Tonight's first pitch is scheduled for 8:07 pm, Michigan time, a bit earlier than for Games One and Two last week in Oakland.
In the National League, the St. Louis Cardinals have a 3-year streak of advancing to the NLCS after their 6-1 Game Five Division Series win last night at home over the Pittsburgh Pirates. The Redbirds will host the Los Angeles Dodgers in Game One of the NLCS Friday at Busch Stadium.