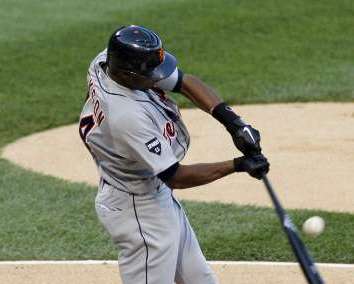 DETROIT, MI (WTVB) - The Tigers used a change in their batting order last night to spark a 7-3 win over the Red Sox and even up the best of 7 American League Championship Series at two games apiece with Game 5 tonight, again in Detroit. Austin Jackson, who has been struggling big time for the Tigers at the plate in the postseason, was moved down from leadoff hitter to number eight in the lineup and he responded with two singles, two walks and two rbi's. Jackson's bases loaded walk put Detroit up 1-0 in the second inning and they went on to score 4 more times in the second.
Torii Hunter, who replaced Hunter in the leadoff spot and Miguel Cabrera, batting second instead of third, each drove in two runs and Victor Martinez added two hits for the Tigers, who jumped out to a 7-0 lead after four innings. Detroit starter Doug Fister struck out seven over six innings of one-run ball for the win. Jake Peavy was pounded for seven runs in 3-plus frames to suffer the loss.
Tonight's pitching matchup at Comerica Park has Anibal Sanchez going for the Tigers facing Boston's Jon Lester in a rematch of Game 1, which Detroit won 1-0.
In the National League Championship Series, the Dodgers survived another day by defeating the St. Louis Cardinals 6-4 yesterday afternoon in Game Five in Los Angeles. Adrian Gonzalez blasted a pair of homers to help the Dodgers avoid elimination. The Cardinals host Game Six tomorrow night up three-games-to-two.