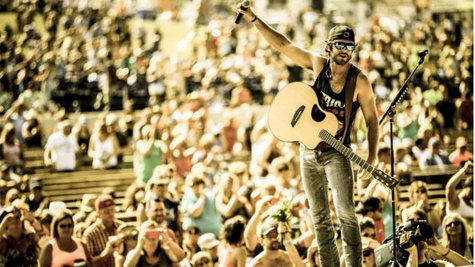 Thomas Rhett only has a few more dates opening for Jason Aldean on the Night Train tour, but the experience of watching Jason's show every night will stay with him for years to come. Every night after his opening set, Thomas would rush back to his bus, change clothes, and then head back to the stage to watch Jason's show.
"I always watch the first five songs," Thomas says. "The things that he's done with his production are incredible. [I] learned a lot about what I want my stage to look like one day."
Thomas wouldn't mind having a big catalog of hit songs like Jason either. Listening to Jason entertain fans with big songs like "Big Green Tractor," "She's Country" and "Hicktown" every night influenced Thomas's own approach to picking songs for his upcoming debut album.
"You believe Jason when he sings them," Thomas says of Jason's hit songs. "I think you want your show to be full of massive hits, because then you never let people go. They're always engaged and they're always intrigued into what you're doing, and they know every word to it."
Thomas is off to a good start racking up those hits with his breakthrough single "It Goes Like This." His album of the same name comes out October 29.
Copyright 2013 ABC News Radio