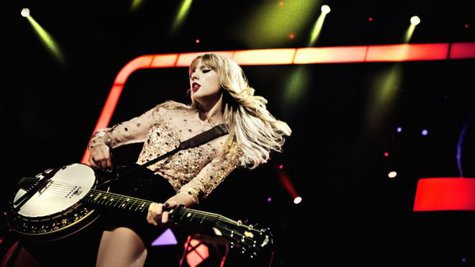 Taylor Swift is taking The Red Tour to Germany this February. She's set to perform at Berlin's O2 world in February 7, but there is a good chance she'll add more dates after tickets for that show go on sale Friday. Taylor will take her show to Australia and New Zealand next month before playing five sold-out shows in London in February.
In other Taylor news, she's set to perform her latest country hit, "Red," on the 47th Annual CMA Awards November 6 with special guests Alison Krauss , Vince Gill , Sam Bush , bassist Edgar Mayer , and percussionist Eric Darken . Judging from that lineup, we're guessing Taylor's live performance of "Red" will be acoustic with a decidedly bluegrass slant.
Additionally, Taylor's new song, "Sweeter than Fiction," from the movie One Chance , is now available on iTunes. Taylor wrote the song with fun. guitarist Jack Antonoff . Once Chance tells the story of tenor Paul Potts , who was a mobile phone salesman when he won 2007's Britain's Got Talent after his audition video went viral.
Taylor and Jack recorded "Sweeter Than Fiction" in Jack's girlfriend Lena Dunham 's apartment. The Girls star posted an Instragram photo of the recording session in celebration of the song's release. Lena's caption reads, "I was very happy, my neighbors less so."
Copyright 2013 ABC News Radio