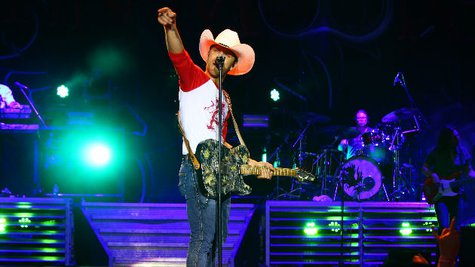 When Justin Moore launches his Off the Beaten Path tour next month in Missouri, you can bet every element of the production and his performance will be straight from his heart. Justin learned to trust his instincts about what to do on stage while headlining his first major tour, in support of his last album, Outlaws Like Me .
"I learned to do what I do," Justin recalls. "There was a time before that tour kicked off I was told, 'Don't play this many songs, it's too many. Don't do that. You can't do that.' And I went out there and just did what I wanted to do."
Justin's Outlaws Like Me tour turned out to be a big success, and a lot of those people who told him what not to do before it started had to eat crow later.
Justin says, "At the end of the tour, those same people go, 'You were right. You should just do what you do.'"
Justin knows his fans who caught the Outlaws Like Me tour will be back to see his new show. While Justin has added a few more lights and other production elements, he knows what his fans want to see on the Off the Beaten Path tour.
"The fans that have showed up at show after show after show and liked what we've been doing wanna see more of the same," Justin says. "They just wanna see it in a bigger place and with more toys on stage."
Justin launches the Off the Beaten Path tour November 1 in Springfield, MO with special guests Randy Houser and Josh Thompson .
Copyright 2013 ABC News Radio