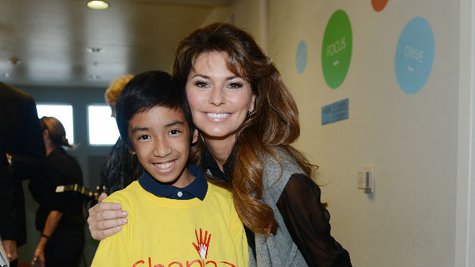 Shania Twain went back to school Monday to open a new clubhouse for children in need through her Shania Kids Can Foundation. The Shania Kids Can, or SKC Clubhouse at Tom Williams Elementary School in Las Vegas is designed to bring "academic, nutritional, therapeutic and extra-curricular activities" to children in the gray area between experiencing a dysfunctional home life and actually qualifying for involvement from social services. Shania grew up in that situation, and she promised herself she would help kids like herself through Shania Kids Can.
She says, "Looking back at my childhood, I realize that my disadvantages, whether they were due to not having a supportive environment or due to a lack of financial resources, created a lack of self-confidence and insecurity in me, causing me to withdraw and be less social than my classmates."
Though the SKC Clubhouse, the singer hopes kids similar to herself will be able to prosper and overcome their difficult home lives.
"Watching the development and growth of these children into motivated, high-achieving members of our community will be one of my greatest achievements," Shania adds.
Of course, Shania chose to launch the SKC Clubhouse at a school in Las Vegas since she's performing her Shania: Still the One show there at Caesars Palace. For more information on her foundation, go to ShaniaKidsCan.com .
Copyright 2013 ABC News Radio