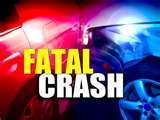 QUINCY, MI (WTVB) - Michigan State Police have now released preliminary information on what happened in last weekend's two car crash on U.S. 12 in Branch County's Quincy Township that left one driver dead and the other driver critically injured. Troopers say 23-year old Stephanie Schabow of Waldron was eastbound when her car collided head on with the second vehicle, which was westbound. The crash occurred near Brown Street, east of the Village of Quincy. The other driver was 77-year old William Wilson of Coldwater. Both were flown by helicopter from the scene to Bronson Hospital in Kalamazoo where Schabow passed away and Wilson remains hospitalized. A passenger in the woman's car, a 25-year old Quincy man, was treated at the Community Health Center of Branch County.
State Police say Wilson crossed the centerline and it appears Schabow swerved to avoid the collision and switched to the westbound lane which Wilson had re-entered after correcting his path and the impact occurred. The investigation is continuing. Schabow was a certified pharmacy tech at the Walgreen Drug Store in Coldwater.
A memorial service for Stephanie Schabow is happening Thursday at 2 pm at the Pine Ridge Bible Church.