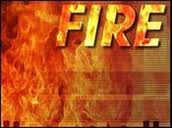 STURGIS, MI (WTVB) - The suspected arsonist accused of torching Welch's Steak and Ribs restaurant in Sturgis more than 4 years ago was in St. Joseph County Circuit Court Wednesday to enter no contest pleas in connection with the crime. 30-year old Nathan Lumbard, a native of Howe, Indiana, plead no contest to a charge of arson in the blaze that gutted the business on June 2, 2009. The court also took a no contest plea to a breaking and entering charge in the Welch's case.
In a third no contest plea, in an unrelated incident, Lumbard stated his intentions on a count of breaking and entering of the Omni Source on South Centreville Road in Sturgis. Authorities say following Lumbard's disappearance after the restaurant fire, he made his way to Missouri and faked his own suicide. Eventually, he was tracked down in southeast Asia in Myanmar and brought back to the U.S. in 2011 to face federal charges.
Lumbard is due back in St. Joseph County Circuit Court for sentencing on December 13th.