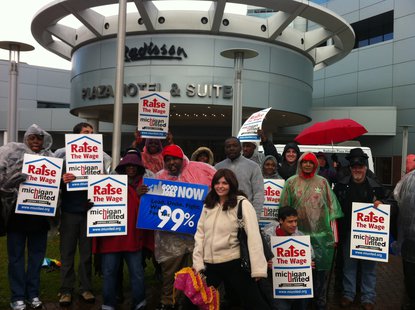 KALAMAZOO (WKZO) -- About two dozen Protestors showed up outside Governor Snyder's appearance in Kalamazoo last evening, protesting in the snow, urging him to consider raising the minimum wage to $10 an hour by 2016.
Spokesperson Brenda Hahn says it will take a higher minimum to make it possible for the million Michiganders making the minimum to afford to live here.
Snyder's staff told the group he was too busy to meet with them, but he told reporters after the event that it was not on his radar. He says he would need to study it first but that it might cost jobs if it was enacted.
Legislation was introduced in the House a few months ago that would have achieved the same results but it hasn't made any headway.