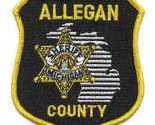 LEE TOWNSHIP (WKZO) -- Allegan County Deputies need your help to identify a heavyset man with some distinctive tattoos who walked onto a yard in Lee Township requesting help and then dropped dead.
It happened in the 100 Block of 54th Street during the noon hour on Saturday.
He was non-responsive when the first emergency crews arrived. Attempts to resuscitate him failed.
The man was not wearing shoes, so they suspect he had not traveled far to get to the location.
He had dark graying hair, appears to be middle aged and weighs about 300 pounds. He was wearing black shorts and a black T-Shirt and had no identification in his pockets.
He also had a number of tattoos, including one of the Tasmanian Devil on his right forearm, and above that, a tat of King Neptune. He had a shield on his left forearm and a saying in cursive tattooed on his left upper arm and shoulder.
They have no reason to believe that his death was suspicious but an autopsy will likely be ordered to determine the cause of death. Knowing his name would help move the investigation along.
Anyone with info can call Allegan Central Dispatch at 269-673-3899.