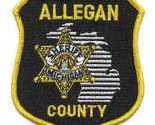 LEE TOWNSHIP (WKZO) -- It appears they have solved the mystery of a John Doe in Allegan County. On Saturday, he staggered up the driveway of a home on 54th Street, barefoot and then collapsed and died.
There was no I.D. on his body. Broadcasts reports about his set of tattoos produced a tip late Sunday that the man is a 48-year-old from the area.
Authorities are now trying to match fingerprints.
If that results in positive identification, they will then notify the family, and only after that, release the name to the public.
Foul play is not suspected but an autopsy was done to determine cause of death