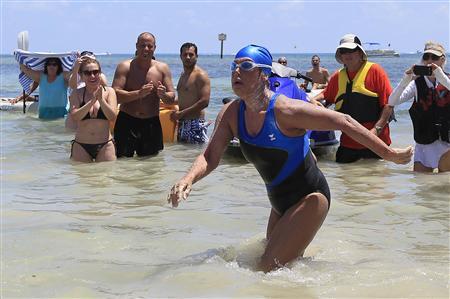 KEY WEST, FLORIDA (WKZO) -- Long Distance Swimmer Diana Nyad called it her "extreme dream", something she has been trying to accomplish for 35-years and this weekend she did it.
At the age of 64 she became the first human to swim from Cuba to the U.S. without a shark cage.
She was greeted by a large crowd in Key West.
Exhausted and numb, she still found the energy to address the crowd on the beach about what she has learned from the experience. One that you should never give up, and you are never too old to pursue your dreams.
She was just in Kalamazoo this May to speak at a fundraiser for KVCC.
It took her 52-hours and 54-minutes to make the 112 mile swim.
She was taken away on a stretcher and loaded into an ambulance and after a check-up, ordered to eat and drink something and rest, and then released.