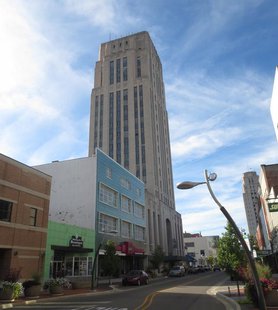 BATTLE CREEK (WKZO) -- Battle Creek City Commissioners have approved a Brownfield Redevelopment Plan to bring a landmark in their central business district back to life.
The 19-story Heritage Tower has been largely vacant for some time and parts of it have been condemned.
It dominates the skyline and now a firm called 616 Development of Grand Rapids wants to turn it into a mixed used development with residential, commercial and retail uses.
They plan to spend over 23-million to remodel the tower, and a smaller building next to it. It would be called the 269-lofts at the Heritage.
The Brownfield designation means the developers will be able to recapture property taxes later to reimburse themselves for asbestos and any other remedial clean-ups that are required to bring the building back into code.
If all goes as planned, expect a ribbon cutting in 2015.