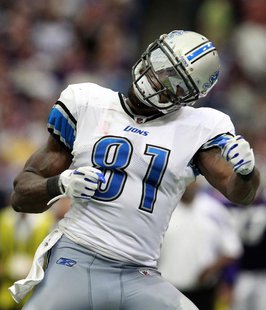 WASHINGTON D.C. (WTVB) - The Lion's seven decade long losing streak at Washington is finally over after 21 straight setbacks as Detroit yesterday defeated the Redskins 27-20 to improve their record to 2-and-1 while Washington slipped to 0-3. The outcome leaves the Lions in second place in the NFC North, a game behind the Chicago Bears, who improved to 3-and-0 last night with their 40-23 win at Pittsburgh. The Bears and Detroit will square off this coming Sunday at Ford Field.
Detroit quarterback Matthew Stafford threw for 385 yards to go along with two touchdowns and an interception. Calvin Johnson made seven catches for 115 yards and a TD while Nate Burleson had six grabs for 116 yards. The Lions got some help from the Redskins as quarterback Robert Griffin the Third fumbled at the end of a 21-yard yard run deep into Detroit territory with the score tied in the fourth quarter. And an apparent 57-yard Washington touchdown pass in the final period that would have put the Redskins ahead was overturned on replay which showed the receiver failed to keep the ball from coming loose as he hit the ground in the end zone.
On the injury front, Lions defensive tackle Jason Jones ruptured his left patella tendon in the second quarter and is out for the year while running back Reggie Bush hopes to be back for the Bears' game after sitting out yesterday with a left knee injury.
The other two teams in the NFC North both lost yesterday. Green Bay dropped to 1-and-2 with a 34-30 loss at Cincinnati while the Minnesota Vikings are 0-and-3 after they fell at home 31-to-27 to Cleveland.
Week 3 wraps up tonight with Oakland at Denver.