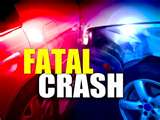 MARSHALL (WKZO) -- Calhoun County Deputies don't know why a 52-year-old Marshall woman strayed over the centerline on A Drive South last evening. She was pronounced dead at the scene.
They say her car went off the opposite side of the road and struck a tree. It happened just before 7 p.m. in Fredonia Township.
She was wearing her seat belt but it wasn't enough to save her.
Her name was withheld while deputies tried to contact relatives.