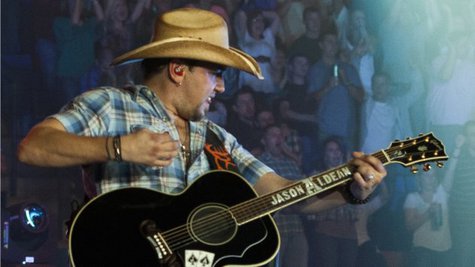 Jason Aldean has just a few outdoor amphitheater dates left on his Night Train tour this fall, but his fans are just as rowdy during his indoor arena dates. There's just one small difference in the crowds as the temperature starts dropping though.
"They start wearing more clothes," Jason says. "You kind of roll into the fall and you kinda slowly start moving back indoors to, like, arenas, which, I love playing arenas."
Jason's fall tour dates include a run through Canada, but Jason won't be building any snowmen outside the venue with his band and crew.
He says, "I'm not really a cold weather guy, so this is the time of year where I just kind of stay on my bus until it's time to go to stage and do that deal."
Jason is playing a handful of outdoor concerts in Southern California next month, including an October 19 show at the Hollywood Bowl. No matter where he plays, Jason just wants to make sure his fans are thoroughly entertained.
Says Jason, "It doesn't matter if it's summer, fall, winter, whatever it is, it's all about having fun and making sure they have a good time."
Jason will close out his 2013 Night Train tour October 26 in Dallas.
Copyright 2013 ABC News Radio