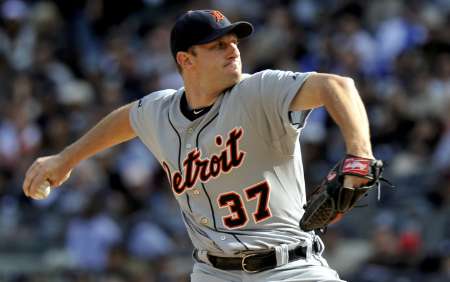 NEW YORK, NY (WTVB) - The Tiger's defense shined last night but their bats were quiet in a 2-1 loss at Yankee Stadium in the opener of a 4-game series with New York. Detroit starter Max Scherzer suffered the defeat, giving up both Yankees runs on nine hits over seven innings. Scherzer's record slipped to 13-4 while the Tigers managed just 6 hits with 5 of them coming off winning pitcher Brandon McCarthy, who allowed just an unearned run while striking out eight over five-and-two-thirds innings.
The Yankees scored their 2 runs in the third inning but could have had more except for a highlight reel catch with the bases loaded by Tiger's outfielder Ezequiel Carrera. He was making his first start since being promoted last week from Triple-A Toledo after Austin Jackson was traded in the deal that brought David Price to Detroit. Carrera's grab came on a deep drive to centerfield where he made a long run before diving with a full body extension toward the wall and completed the play sliding on his stomach onto the warning track.
David Price makes his Detroit pitching debut tonight at Yankee Stadium. The first place Tiger's lead in the Central dipped to 4-and-a-half games over the idle second place Kansas City Royals. The White Sox trimmed Texas 5-3 in Chicago in a rain shortened game that was called in the bottom of the seventh inning. The Cubs had the day off Monday.