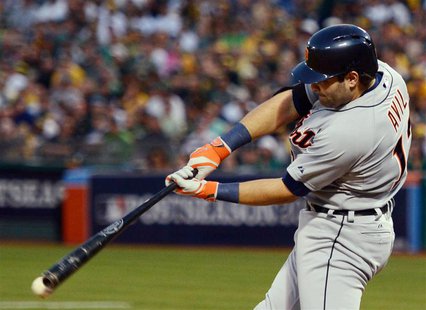 NEW YORK, NY (WTVB) - The Tigers rallied in extra innings last night to beat the Yankees 4-3 in New York. Catcher Alex Avila's solo home run in the top of the 12th turned out to be the game winner a night after New York nipped Detroit 2-1 in the opener of the 4-game series. Avila, who earlier came through with an RBI single that tied the contest 3-3 in the seventh inning, made David Price's first outing as a Tiger a victorious one, though the newly acquired lefthander ultimately didn't factor in the final outcome. Price had a strong Detroit debut last night racked up 10 strikeouts while allowing three runs, including a pair of solo homers, over 8 and two-third innings. Andrew Romine also had a solo homer for the Tigers and Victor Martinez contributed two hits and an RBI.
Joakim Soria retired the Yankees in order during his lone inning of work in the 11th to pick up the victory and then Joe Nathan followed with a 1-2-3 bottom of the 12th to record his 23rd save, surviving a scare on a deep fly fly ball that was hauled in by J.D. Martinez at the wall for the first out. Detroit reliever Joba Chamberlain, who spent his first seven major league seasons with the Yankees, tossed 1-and-a-third scoreless innings in relief of Price while facing his ex-team for the first time.
Central Division leading Detroit remains 4-and-a-half games up on second place Kansas City after the Royals win last night at Arizona. Tigers' rightfielder Torii Hunter left the game in the ninth inning after being hit in the left hand by a pitch, but x-rays were negative and Hunter is listed as day to day. Justin Verlander goes to the mound tonight for Detroit against the Yankees.
The Chicago White Sox were slugged by the Rangers 16-0 last night in Chicago while the Cubs beat the Rockies 6-5 in 12 innings at Colorado.