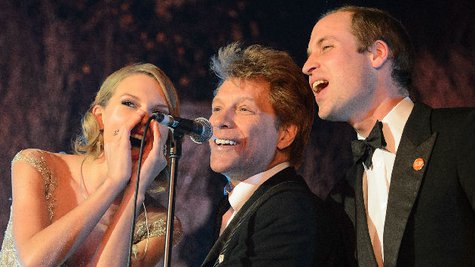 One of the oddest duets of 2013 didn't take place on record -- it took place on a stage in London, for a very small and exclusive audience. We're talking about the time last year that Taylor Swift and England's Prince William jumped onstage with Jon Bon Jovi during a charity event and sang "Livin' on a Prayer" together. Looking back on that night, Taylor says, "I still can't believe [it]."
Speaking to the Mail on Sunday's Event magazine, Taylor, who's in London for a series of concerts, says the moment began when Jon Bon Jovi first asked William to join him onstage, and then the heir to the throne turned to Taylor and said, " I'll do it if you do it too." Taylor recalls that he "took my hand. I was just completely surprised and flattered and it felt surreal and completely natural at the same time."
" We jumped on the stage and started to sing and then we were really yelling into the microphone and clapping hands. I still can't believe I've sung with the Prince of England." She adds, " I completely love him -- and [his wife] Kate [ Middleton ] -- I wished I got to meet her too because those guys are like this perfect, perfect couple. Looking at them just makes me feel happy."
As for the prince's singing voice, Taylor says, " It is pretty good. A nice tone. I'd definitely say he's got star quality and if he ever wants me to sing with him again I'll be there."
Taylor has shows scheduled in London's O2 Arena through February 11. She's already welcomed her buddy Ed Sheeran onstage as a surprise guest to sing his hit "Lego House," and in addition, she's duetted with rising British star Sam Smith . Spotted in the audience at her show on Sunday night was One Direction's Niall Horan . Of course, Taylor once dated Niall's bandmate, Harry Styles .
Copyright 2014 ABC News Radio