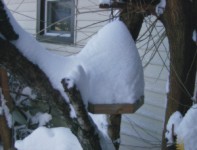 UNDATED (WKZO) -- If you are getting to be mature or if you know someone who is elderly, they may need special attention in weather like this.
It's not easy to be old in the cold.
David Smith who owns the Home Instead Senior Care Office says because of medication, they can lose their ability to tell when it's gets too frosty.
He says some have to be coaxed to keep the thermostat up over 65 because of the expense.Many are on fixed incomes.
He says making sure that drafts are taken care of, and the furnace is properly maintained is something everyone needs to attend to.