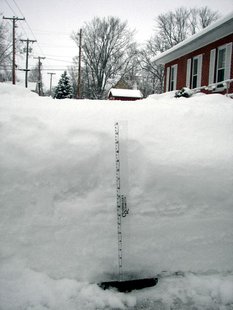 KALAMAZOO (WKZO) – Travel is a nightmare this morning, no matter how you plan to travel.
Kalamazoo County Road Commission Manager Joanna Johnson says they have been focusing on the main roads, and they hope to get to some of the outlying subdivisions sometime today, but if the forecast is right and lake effect continues to fall all day, they may not make it into the housing tracts for a day or two.
Main roads are ice covered, if they have been plowed, but the wind continues to blow snow back into roadways.
Side roads by and large have not been plowed and there are reports of huge drifts on some rural roads making them impassible.
Johnson says if the children go out to play today, that they should not build snow forts along the road. A plow truck could come along and bury them.
Travel from Kalamazoo to Chicago, or its new nick-name "Chi-beria" was nearly impossible last evening. Flights to Chicago's two airports were cancelled. I-94 from Michigan City to the Illinois Border was closed because plow trucks could not keep the interstate cleared.
Amtrak Train 353 on the Wolverine line headed west from Kalamazoo to Chicago broke down near Niles when a brake line failed Sunday evening. It left hundreds of passengers stranded for hours until a new train could be dispatched from Kalamazoo. The disabled train was heated and electrified and they waited in relative comfort. Some caught a train headed back to Kalamazoo.
The near record breaking winter weather has thrown a wrench into flight schedules at all the major airports in the region.
Daniel Baker at Flightaware.com says flights at airports like Kalamazoo and Grand Rapids are being delayed or cancelled as a result.
He says thousands of flights were scrubbed over the weekend and 15-hundred have already been cancelled for today. It's left a lot of passengers at Midwest Airports in limbo.
If you had a ticket to fly today, most airlines will rebook or transfer for free because of the weather.
A number of area law enforcement agencies including State Police and the Governor are urging people to stay home unless absolutely necessary.
Cass County plow trucks were parked Sunday night because visibility issues made it too dangerous for the drivers to be out. They will be back out this morning.
Bobby Hopewell, the Mayor of Kalamazoo is asking folks not to park on the streets and to stay off the roads if at all possible until plow trucks catch up with the falling snow.
The Kalamazoo County Health and Human Service department is watching the thermometer like the rest of us and working with Emergency preparedness just in case they are needed this week now that temperatures have plunged into the danger zone.
Director Linda Vail says at some point they will be issuing warnings.
It's been a few years since the temperatures have dipped this low in south west Michigan.
The cities of Sturgis, Marshall, Albion, Coldwater, and St. Joseph County have declared snow emergencies. Cars parked on streets in those communities could be towed and impounded if not removed from the streets, and the path of plow trucks.
Governor Rick Snyder says they have opened the state's Emergency Operations Center and they have been in contact with some local communities, but none have requested help. He says they have extra State Police patrols on the highways and MDOT has every plow truck they have that is serviceable on the road.