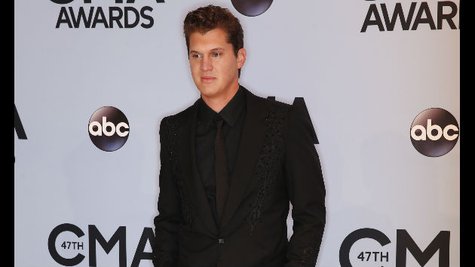 Newcomer Jon Pardi 's music is heavily influenced by country music's Bakersfield sound popularized by the late Buck Owens in the '60s and later revived by '90s hitmaker Dwight Yoakam . Since he's got the sound down pat, Jon wanted to capture a little bit of Buck and Dwight's flashy fashion sense for his appearance at the CMA Awards last November. So, he enlisted their designer, Manuel , to make him a custom, rhinestone-encrusted suit. Jon's latest single, "Up All Night," was well on its way up the country chart back then, but he insists it was the fancy suit that made him feel he really belonged backstage at the big show.
"Nobody asked me for my pass," Jon tells ABC News Radio. ""I just went back there and just owned it, and everybody loved it. It's an all-access pass. I mean, [it's like] 'This guy has to be here. His jacket is sparkling. Come on. Come on in here!'"
Manuel has been known to go over-the-top with the rhinestones, but Jon was able to rein him in on the sparkles.
He says, "We kept it real, like, not too flashy, but still kind of old school and kind of underground sparkly. Not like, glitter everywhere, you know. So, I really liked how the suit came out."
Jon will have to figure out what to wear to the ACM Awards this spring since "Up All Night" is now a hit. It's included on Jon's debut album, Write You a Song , due out next week.
Copyright 2014 ABC News Radio