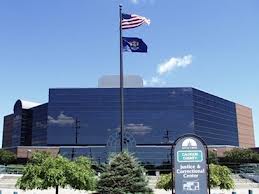 BATTLE CREEK (WKZO) -- Calhoun County Judge Conrad Sindt called it a horrific crime as he gave Jesse Tatum 39 to 80 years in prison for starting a fire that killed 8-year-old Karinna Johnson.
Tatum had been dating the young victim's mother but they broke up and had a confrontation at a party in November of 2012.
Tatum confessed he had been drinking and got angry, filled a bottle with gasoline, lit a rag in its top and threw it at Janeen Johnson's home.
Tatum pled guilty to second degree murder in a deal with prosecutors to avoid going before a jury and facing the possibility of being found guilty of felony murder or first degree murder, which would have meant mandatory life without parole.
The 25-year-old apologized in court yesterday, saying he had no idea that three kids were inside at the time, saying he wouldn't have done it if he had known.
Both families were in the courtroom, and had a confrontation in the hallway after the sentencing. They had to be separated by deputies.