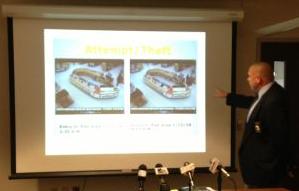 NILES (WKZO) -- Berrien County Detectives are anxious to arrest a robber who set fire to the Niles Walmart before robbing it, because they are worried about what he might do next.
They are asking for the public's help to locate anyone who may be trying to unload Apple I-pads.
Lt. Greg Sanders says they have surveillance video of a white male checking out the same display cases the night before the robbery.
They believe it is the same man, planning the crime, which damaged property and threatened lives.
Anyone with information on the case is asked to call Berrien County Detectives or CrimeStoppers.