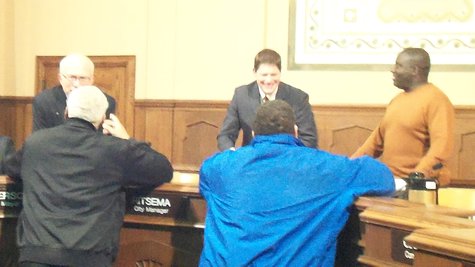 KALAMAZOO (WKZO) -- It took a little while longer than planned due to the weather but Kalamazoo City Commissioners have approved their 2014 city budget.
The 143-million dollar spending plan includes a 54-million dollar general fund budget, which pays for Public Safety, road maintenance, parks and recreation and economic development.
They also approved budgets for the Downtown, the Golf Association , and the Historic Preservation Committee.
The General Fund plan calls for the elimination of several positions, budget cuts in several departments, and dipping into reserve funds to erase a deficit and balance the books.
City Manager Jim RItsema says he will propose next week, that the Commission establish a community task force to begin looking at the city's long term funding plan, to explore new sources of revenue and better ways to make the community sustainable.
City Commissioner Don Cooney noted that the State Of Michigan has a billion dollar surplus and says they should spend some of it replacing the revenue sharing dollars they have taken from cities in the past few years.