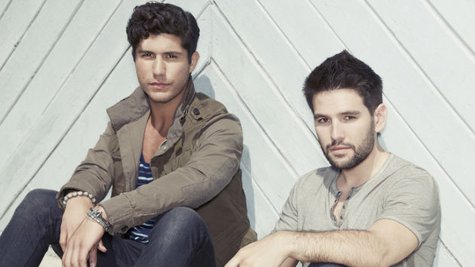 A new artist can wait years for their songs to catch on at radio, but new duo Dan + Shay [pr: Dan and Shay] is on the fast track with their debut single, "19 You + Me." The song is already a top 20 hit, which means Dan Smyers and Shay Mooney are suddenly hearing themselves on the radio more and more these days.
Shay tells ABC News Radio, "I think the first time I heard it really randomly was driving around in Nashville. We heard it playing on the radio, and it was just like, 'I can't believe this. This is just the craziest feeling in the world.'"
Though they met just over a year ago, the guys experienced success right off the bat as songwriters. The first song they wrote caught the attention of their heroes, Rascal Flatts , and now they find themselves on the charts next to the Flatts and Keith Urban .
"It's an honor and a privilege, though, to get to do this," Shay says. "There's so many people, especially in a really talented area like Nashville. So many great people and so many great writers, and we respect them so much."
Look for Dan + Shay to release their full-length debut album in the coming months.
Copyright 2014 ABC News Radio