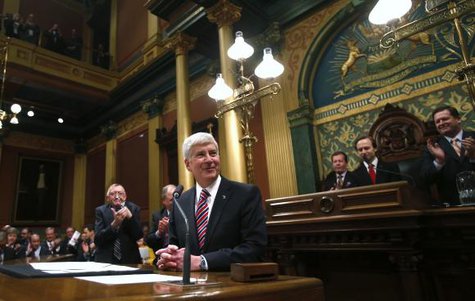 LANSING (WKZO) -- He first introduced the idea during his State of the State Address. Now Gov. Rick Snyder has announced a plan to contribute 350-million dollars over the next 20-years to offset the losses Detroit City pensioners could face as a result of Detroit's bankruptcy.
Many believe it will be a tough sell in the legislature.
The plan is to tap into dollars from the Tobacco Settlement. Governor Snyder went on record just months ago saying that there would be no state bailout of Detroit because of the bankruptcy, but he insists this isn't a bailout.
Some republican lawmakers say that's exactly what it is, and there is some democratic opposition too. 350-million is just a tenth of what the pension systems owe and Democrats want pensioners made whole, not given just a fraction of what they have coming.
Senate Leader Randy Richardville stood by the Governor's side at the Announcement, but even he is reserving judgment, saying he needs to see the details and debate it with his colleagues.
The state's money would match 330-million raised by 9 private foundations to save the paintings at the Detroit Institute of Arts, but Snyder insists the state money would only go to pensioners.