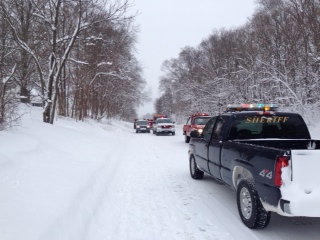 WEST MICHIGAN (WKZO) -- The snow plows will be out all night on the main roads, trying to negate the effect of a night of Lake Effect snow that hit the lakeshore counties hard but also dropped quite a bit of snow on inland counties.
The exception of course is Allegan, where they don't have the budget to plow overnight. Their trucks will hit the roads at 5 a.m.
A winter Storm Warning has been issued for Allegan, Van Buren and Ottawa counties and Kalamazoo is under a Winter Weather Advisory.
Police agencies advise against driving, but if you must, keep your distance and take your time.
The sound of snow blowers is common in northern lake shore communities and in northern Indiana, where lake effect dumped 2 feet of snow earlier this week.
If the forecasters are right, the worst is yet to come, as even colder temperatures will move into the region next week.