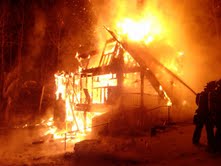 (Reuters) - Three adults and two children died in a fire that destroyed a house in rural Iowa on Friday morning, authorities said.
Fire crews found the house about 70 miles west of Dubuque, Iowa, engulfed in flames but the cause has not been determined, authorities said.
"There is quite a bit of damage and we have not even started digging into the cause yet," said Ron Humphrey, a special agent for the Iowa state fire marshal. It is unclear when, if ever, the source of the fire would be known, he said.
Humphrey said the owner of the house apparently rented part of it out. Humphrey said some people living in the house were related and two who died were children.
All bodies in the home have been recovered, Humphrey said. There was concern about a sixth victim earlier Friday, but she was away from home when the fire occurred, he said.
The house was 1-1/2 or two stories but was reduced to 5 or 6 feet of rubble by the fire, Humphrey said.
The fire was reported at about 3:35 a.m. CST (0435 ET), the Fayette County sheriff's office said. The Iowa Department of Criminal Investigation and state fire marshal are assisting in the investigation.
(Reporting by Kevin Murphy in Kansas City; Editing by David Bailey, James Dalgleish and Lisa Shumaker)