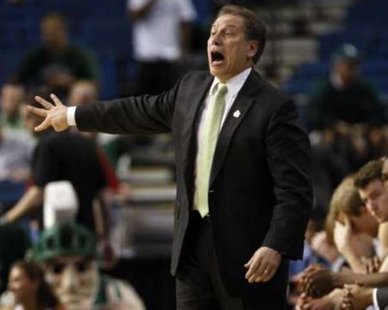 EAST LANSING, MI (WTVB) - 3rd-ranked Michigan State will be without starting forward and leading rebounder Branden Dawson for over a month. The school says Dawson broke a bone in his right hand yesterday morning when he slammed it on the table in frustration during a film session. He was scheduled for surgery last night and will be out of action four to five weeks. Despite a rash of injuries and illness this season, MSU has suffered only one loss and is 7-and-0 in the Big Ten. Right behind the Spartans in the conference is number-21 Michigan with the Wolverines 6-0 in league play. Michigan State and Michigan have a first place showdown tomorrow night in East Lansing.
Last night in the Big Ten, #17 Ohio State stopped a 4-game skid with a 62-55 win over Illinois in Columbus.
In the Mid-American Conference, Western Michigan coasted to a 75-59 victory at Kent State. Shayne Whittington scored 18 points in the win along with 6 rebounds as the Broncos improved to 10-7 overall and 3-2 in the MAC.