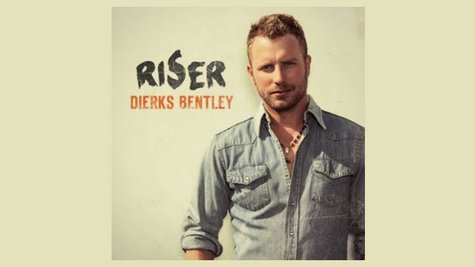 Dierks Bentley has been working for years to capture the feel of his live shows in the studio. He thinks he's finally pulled off that feat with this new album, Riser , due out February 25.
"It's the sound in my head that I hear when I'm playing a live show," Dierks says of the new music. "There's a certain amount of gravel to it because you're tired, but you're all jacked up on whatever you're drinking and adrenaline, and the crowds and the fans are there and there's this feeling, fists in the air -- it's that thing that's hard to transfer into a studio environment. There's a rawness."
Dierks called on his pals Kacey Musgraves and Chris Stapleton to sing on the project. Charlie Worsham also did some guitar work on Riser . Making this music with people he also hangs out with made all the difference for Dierks.
He explains, "I have such a romance with Nashville and this community. I drove across the country when I was 19 years old with a dream of just being invited to the party. It's still wild to me that I get to work with and call so many incredibly talented people my friends."
Riser features Dierks' latest hit, "I Hold On."
Here's the Riser track listing:
"Bourbon in Kentucky"
"Say You Do"
"I Hold On"
"Pretty Girls"
"Here on Earth"
"Drunk on a Plane"
"Five"
"Riser"
"Sounds of Summer"
"Damn These Dreams"
"Back Porch"
"Hurt Somebody"
Copyright 2014 ABC News Radio