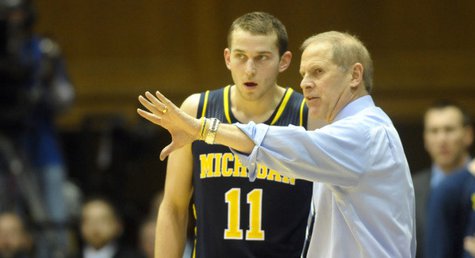 INDIANAPOLIS, IN (WTVB) - Big Ten year end award winners were announced Monday as the league prepares for the conference tournament at Indianapolis starting with first round games on Thursday. Michigan sophomore guard Nik Stauskas was named by the coaches and media as the Big Ten Player of the Year while his coach, John Beilein, was picked by the media as Coach of the Year while the coaches selected Nebraska coach Tim Miles for the honor.
Michigan this season won its first outright Big Ten title in 28 years with a 15-3 league record. The Wolverines will face either Indiana or Illinois Friday in the conference tournament. Joining Stauskas on the Big Ten all league first team was Michigan State's Gary Harris. MSU plays Iowa or Northwestern at Indianapolis Friday night.
There were first round games last night at campus sites in the Mid-American Conference tournament including Eastern Michigan winning at home over Central Michigan 72-60. The victory sends the Eagles onto the second round to face Miami, Ohio tomorrow night as the action shifts Quicken Loans Arena in Cleveland. Top-seed MAC regular season champion Western Michigan doesn't play until Friday night's semi-finals.
Three more teams, Delaware, Manhattan, and Wofford, are heading to the NCAA Tournament after winning their respective conference championships last night. They join Wichita State, Harvard, Mercer, Coastal Carolina and Eastern Kentucky as teams locked into the field of 68.