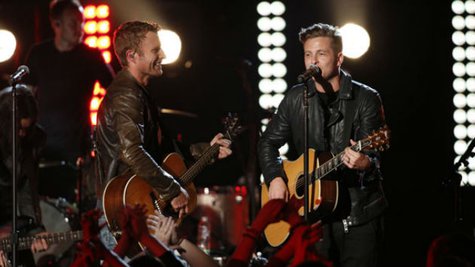 Dierks Bentley 's CMT Crossroads concert with OneRepublic premieres Friday night, but fans won't be hearing their planned cover of the Avicii pop hit, "Hey Brother," on the show. During rehearsals, OneRepublic front man Ryan Tedder kept singing different lyrics to the song to crack Dierks up. For example, Ryan replaced, "Hey brother, do you still believe in one another?" with "Hey brother, did you know your sister is your mother?"
Dierks tells ABC News Radio, "I was like, 'You're ruining [it]. We're never gonna be able to sing the song now 'cause we're gonna be cracking up the entire time.'"
Dierks has since added "Hey Brother" to his concert set list, but fans can expect to hear him and OneRepublic swapping vocals on each other's hits, including "I Hold On" and "Counting Stars." The show also includes a cover of the U2 hit, "Pride (in the Name of Love)."
Dierks says of working with OneRepublic, "I always loved the CMT Crossroads , and always wanted to do it, but hard to find that right band. That was the only band that I really wanted to do it with, and it happened."
CMT Crossroads with Dierks Bentley and OneRepublic premieres Friday night at 10 ET.
Copyright 2014 ABC News Radio