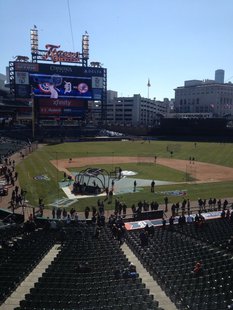 DETROIT (WKZO) -- The Spartans and Wolverines may be done for this season, but the Tiger season is just beginning.
With Miguel Cabrera, the league's batting champ for the last three years at clean-up, and two Cy Young award winners, Justin Verlander and Max Scherzer in the pitching rotation, the Tigers seem poised for another run at the series this summer.
Even Mother Nature seems ready to pitch in as the temperature could in the 60's for the game.
There is nothing like opening day for the Tiger Season in Detroit, especially these days, now that the team is one of the best in baseball.
Verlander will take the mound for Detroit at Comerica Field against Kansas City and throw his first pitch at 1:08 p.m.
You can hear the whole season on WKZO am 590.