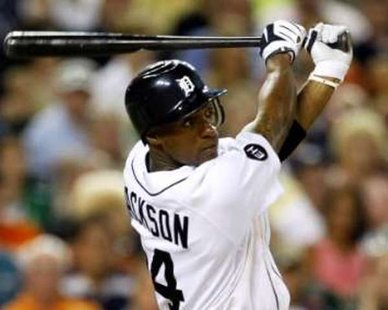 OAKLAND, CA (WTVB) - The Tigers last night scratched out a 6-5 win over the A's after being blasted 10-0 Monday afternoon in the opener of the 4-game series at Oakland. Detroit manufactured the deciding run last night in the eighth inning without a hit. It happened when pinch runner Rajai Davis scored on Austin Jackson's fielder's choice groundout. The speedy Davis entered the game following a one-out walk. He took second on a passed ball and then stole third when the A's catcher was tossing the ball back to the pitcher. Oakland wasn't able to double-up Jackson on his sharp grounder to the shortstop and Davis raced home with the go-ahead run.
Miguel Cabrera and Torii Hunter homered for the Tigers with Hunter's shot to center in the seventh tying the game at 5-all. Al Albuquerque pitched a scoreless seventh for the victory while Joe Nathan closed out the win in the ninth for his 12th save in 15 tries. Detroit's 29-19 record keeps them 5 games up on the second place Chicago White Sox in the American League Central. Anibal Sanchez gets the start tonight for the Tigers at Oakland.
The White Sox beat the Indians 2-1 last night in Chicago while the Cubs were blanked 4-0 at San Francisco.