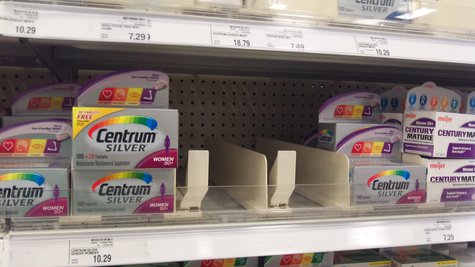 GRAND RAPIDS (WKZO)-- The suspect in that strange product tampering at Meijer stores has made his first appearance in Federal Court for a bond hearing.
Brian Conover had left the state and returned to Minnesota where he was studying to become a substance abuse counselor. He was back in Michigan when he was arrested.
He is being held in the Newaygo County Jail which is under contract with the U.S. Marshal's Service to hold prisoners.
The Richland man is charged with emptying women's vitamin bottles and replacing the contents with candy, nuts, raisins, aspirin, catfood, chocolate chips and heart pills.
He returned the bottles for refunds and store staff apparently returned some of the tampered bottles to the shelves. Later they removed all of their stock of certain vitamins.
His mother reportedly claims Conover has undiagnosed mental and gender identity issues. She says he may have wanted the vitamins.
In an E-mail to the FBI, Conover reportedly denied he is a terrorist, saying he never he never intended to hurt anyone, and was just a "poor college student", blaming drug abuse for clouding his judgment.
They found the tampered products at Meijer stores in Kalamazoo, Allegan and Calhoun Counties. They also allegedly found some of the same products, with receipts and gift cards at his place.
They also have receipts and surveillance footage linking him to some of the transactions.
The U.S. Attorney asked for a high bond, calling the 35-year-old Conover a flight risk.
A continuance was requested. His next hearing is set for this coming Tuesday.