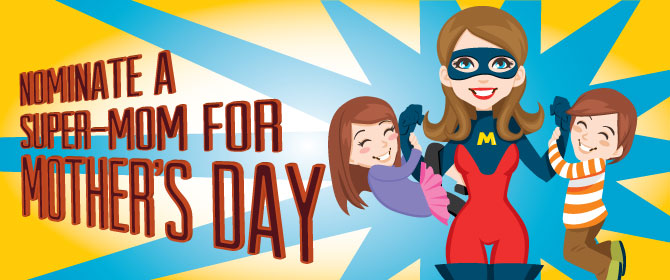 Nominate a Super-Mom for Mother's Day
Submit a nomination for your mom, your grandmother...or a daughter who is a mom, add a few comments and we'll post it on our SUPER MOM web page. We'll choose a winner, at random who will win a dinner for two from The Moonraker Restaurant, carpet cleaning for 3 rooms from Modernistic, and a tanning package from Mirage Tanning.Contest ends May 8, 2013.
Sponsored By: The Moonraker Restaurant, Modernistic Carpet and Upholstery Cleaning, and Mirage Tanning.
The Nominations
Lori Hudson
I am nominating my aunt Lori for this contest because I lost my mom this year and she stepped up to fill that void I had.She is the BEST!She works 40+ hours a week and is a caregiver to all her family,all by herself.Lori is always there for anyone NO HESITATION!She is always smiling even if she has a reason not to.Shes always cooking and entertaining for everyone.She has raised 3 amazing kids and helps her family out so much!Shes really is THE BEST SUPER MOM!! thank you so much! please pick her!
Kacee Parker
My name is Kacee and I feel like my mother Suzanne Parker is a super mom for many reasons, but I will try to list a few. She is wonderful mother to five kids, and to nine grandchildren. She goes out of her way daily to do for all of us. She has recently diagnosed with type 2 diabetes, and her attitude has been amazing towards it. She has lost weight and made better food choices, it has been a blessing in disguise. She is the glue that holds our family together. She more than deserves this!
Traci Holand
This nominee is the best because she has always been there for my siblings and I through the tough days, and the easy. My oldest brother is 22 and she has been a single mother for most of the time. She has always kept a roof over our head and food in our belly. Teaching us the right way to live. She keeps our mind on towards what is right. I know I will be able to live on my own, thanks to my mommy. She is definitely the best mom and the best nominee for this.
Sarah Robertson
My mom is the best in the world to me, because without her, I could be a lot worse. My mom chose to marry a wonderful step-dad for me and my sister. She teaches us school. She helped bring my step-dad to Christ. She helps me not be mad at my dad sometimes. She takes care of my Great-grandparents. She helps do a home bussness with my grandpa. She helps and encourages us to be good, Christian citizens when we grow up and to support out leaders.
Manal Glenn
Manal Glenn is the mother to 2 young boys. She constantly strives to keep the boys busy and entertained. Be it baseball, biking, making tye die shirts, Christmas Cookies, singing songs or just hanging as a family. She is a hip & rockin Mom who is SUPER!!!
Courtney Callender
"I am nominating my daughter for Super Mom. She is all about her family. She works part-time at a health care office, so that she can follow her dreams of operating a dance studio to pass the joy of dance on to young children. This is the 2nd year her studio has been operating and it is growing beyond expectation, but the best part is seeing the excitement of the students when they perform.Courtney never forgets to take time for her husband and 2 kiddos while she is following her dreams. She enjoys playing with the kiddos and teaching them about the love of Jesus. Courtney is a super daughter, wife and mother. Rhonda Jones"
Cassandra Hall
Single mom with 5 kids she loves and cares her best for by them there ages 2,3,4,5,6
Chloe Baum
My mom Carrie Baum is an amazing person. She is always there for me and my brother and sister. She provides 3 meals a day for all three of her kids even after she gets home from a long hard day of work at Battle Creek Bronson hospital. She loves us and cares about us so much that we need to give her something back to say thank you for everything she does for us. I know this would mean the world to her so please don't look over this amazing woman and let her win because she truly deserves it!
Carrie Baum
There are 3 kids in our family and we each play 2 or more sports all year round between practices every single night and all day tournaments waking up at 6am to be somewhere 2 hours away until 8-9 at night. She gives up all of her free time and plans to make all of us happy she would definitely love this!
Kim Reniger
She is the best mom that anyone could ask for. She was diagnosed with breast cancer in august of 2012 and still continues to go out of her way for anyone. She has a huge amount of courage and strength and is very loving and caring. I do not know anybody that has been as tough as her in her fight against breast cancer.She has, and never will give up. She is an amazing mother.
Tamara Holibaugh
My mother is a kind and generous mother. Within the last two years she has lost everything and still strives. She shows her kids that nothing can keep her down. Within six months she has lost an uncle, a cousin, her husband, a friend, a sister and her mother from all various things. I've not seen her without sorrow for a while and I just think she is the strongest person I have ever seen in my lifetime just glad that this person is my mom cause she's the best and I love her.
kim kellam
She is as strong as nails and built her own house with my brothers. She is always there when I need her and she is like my bestfriend! I have 4 brothers that are all older then me and I have no sisters she would do anything for me and we are always together I love her(: forever and always mom
allene johnson
my mom is the she is very disabled with degenetive joints and she still gets up in the morning and has everything done before i can help her even though it hurts to do it.she has always been there for me and my brother who is now 29 and lives on his own now.and i am 17 so she deserves a mothers day to help her now more then ever I LOVE YOU MOM YOUR THE BEST
Georgann Detty
My mother is the best mother for many reasons but the most important include her always taking care of her family. My mom took care of my brother in her home when he had terminal cancer and she was the strongest person I have ever known. She would be with him daily knowing that he would pass someday. Anytime someone would come visit, she would welcome them into her home. She also took in her mother when she couldn't take care of herself. My mother deserves this based on her love for others.
Barb Squires
Because she is ours!
Jenna Claywell
She gives 100% to her two beautiful baby girls all the time. She is a terrific mom and they are lucky to have her!
Mitzi Desourdy
My mom, Mitzi has always made sure to put us first. There is me(25) and my younger sister(15), our dad passed away in March 2011. My mom does not have a lot of money but always makes sure my younger sister has everything she needs and quite often most things she wants. My mom NEVER does anything for herself just to make sure she has enough money to get my sister new clothes, her haircut, fun things at school, etc. Our mom deserves something for herself!!
Ranee Frailey
Ranee is my sister she deserves this award because she is a mother of 5 busy boys and she works full time as well, she is always running a son here for a sport or there for a sport,she is at every one of their games. Ranee is always supportive of her children and her family she is a very strong, Funny and outgoing person and is very deserving of this award.
Kristy Coger-Babcock
She is a hard working mom that has three children, plus her husbands son. She is on the go with sports, work, family life. She needs a break to sit down & collect herself. She's a great mother and I'm proud of my daughter!
Register Here For a Chance to WIN!