Student of the Month is Back
Nominate a Student
Nominate a hard-working student to become the monthly WIN 98.5 Student of the Month. Enter your nomination below including authorized photo.
A Winner Each Month
We'll post all the nominations on this page and draw a winner each month. The Student of the Month will receive a gift card, certificate of recognition and an interview on WIN 98.5.
Our Sponsors Include:
Bob Janvrin Auto Body, Professional Towing, Thomas and Maxson, AIM Asphalt
October Student of the Month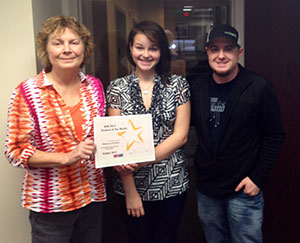 MaKenzie
MaKenzie has overcome a lot in just a short period of time. Last year, she had no desire to get involved in school, she was very withdrawn! This year she is in a new school, she has become more involved in school clubs, volunteer work, and has maintained straight A's. She now has her sights set on Yale! She has become the teenager that she has always wanted to be. She has more confidence in not only herself, but with her surroundings. She truly amazes me with the amount of change she has undergone in just a short time!
Register Here and Nominate a Student