Student of the Month is Back
Nominate a Student
Nominate a hard-working student to become the monthly WIN 98.5 Student of the Month. Enter your nomination below including authorized photo.
A Winner Each Month
We'll post all the nominations on this page and draw a winner each month. The Student of the Month will receive a gift card, certificate of recognition and an interview on WIN 98.5.
Our Sponsors Include:
Bob Janvrin Auto Body, Professional Towing, Thomas and Maxson, AIM Asphalt
May Student of the Month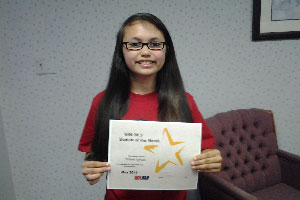 Tiffanie
Tiffanie is a straight A 7th grade student at Legg Middle School in Coldwater. Ms Corwin has been active in the Student Council, Choir, theater. roller skating and bowling. She was recently selected to receive a full scholarship to a Michigan State University's "Gifted And Talented Education" for a two week residential summer program where she intends to study "What is your Code? Genetics and Biotechnology", "Nuclear Astrophysics" and "Astronomy: Visions of the Universe".
Register Here and Nominate a Student