Student of the Month is Back
Nominate a Student
Nominate a hard-working student to become the monthly WIN 98.5 Student of the Month. Enter your nomination below including authorized photo.
A Winner Each Month
We'll post all the nominations on this page and draw a winner each month. The Student of the Month will receive a gift card, certificate of recognition and an interview on WIN 98.5.
Our Sponsors Include:
Bob Janvrin Auto Body, Professional Towing, Thomas and Maxson, AIM Asphalt
March Student of the Month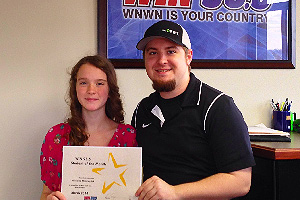 Adriana
Adriana is an 8th grader in Athens. She is very active in sports & maintains to get all A's. She works so hard & gives 110% at what she does. She recently just accepted into the Math & Science Academy in Battle Creek & will attend 9th-12th grade.
Register Here and Nominate a Student