Student of the Month is Back
Nominate a Student
Nominate a hard-working student to become the monthly WIN 98.5 Student of the Month. Enter your nomination below including authorized photo.
A Winner Each Month
We'll post all the nominations on this page and draw a winner each month. The Student of the Month will receive a gift card, certificate of recognition and an interview on WIN 98.5.
Our Sponsors Include:
Bob Janvrin Auto Body, Professional Towing, Thomas and Maxson, AIM Asphalt
January Student of the Month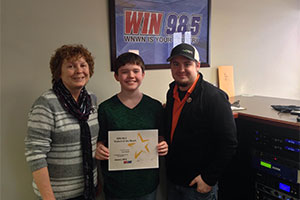 Cris
Cris is a 7th grader who strives to do his best in all he does. He is also a well rounded young man. He plays club soccer, is a former volunteer AYSO U8 referee, was on his school's Cross Country team, he participates in a youth bowling league, he runs 5Ks which often help to raise funds for great causes, plays in the 7th grade band, looks forward to the spring track season and is a member of his school yearbook staff. He is an excellent student academically, musically, in sports & in life.
Register Here and Nominate a Student